Welcome to Missinglettr v3! Here's what's new:
1. Redesign
Here is a brief overview of the redesign changes made in v3 - our helpdocs have also been entirely updated, so feel free to browse them to see the upcoming changes.
1.1 Menu
The main menu is no longer on top of the page, it is now on the left side of the screen, always visible and accessible. Switching to a different site is more accessible.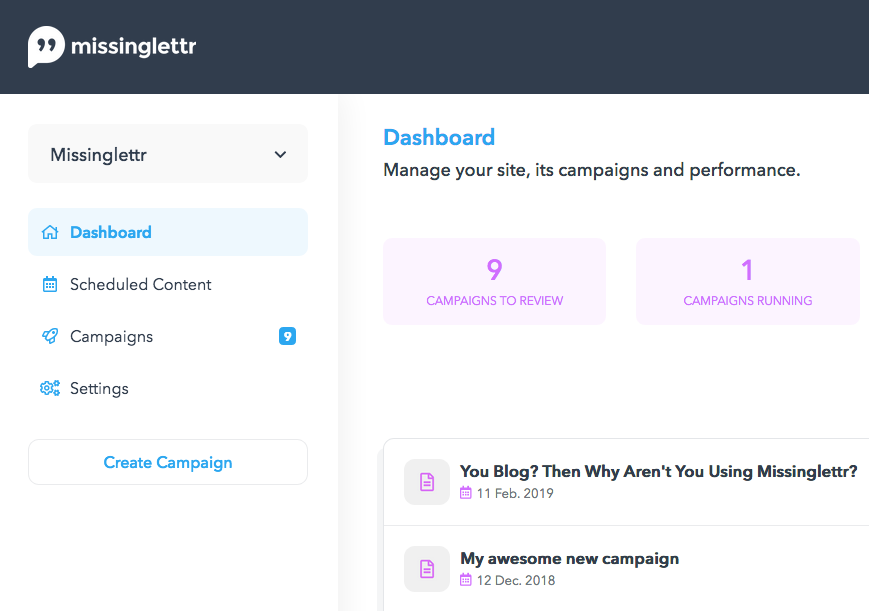 1.2 Dashboard
The dashboard was cleaned up and we used the extra space to showcase all of your campaigns which are ready to be reviewed: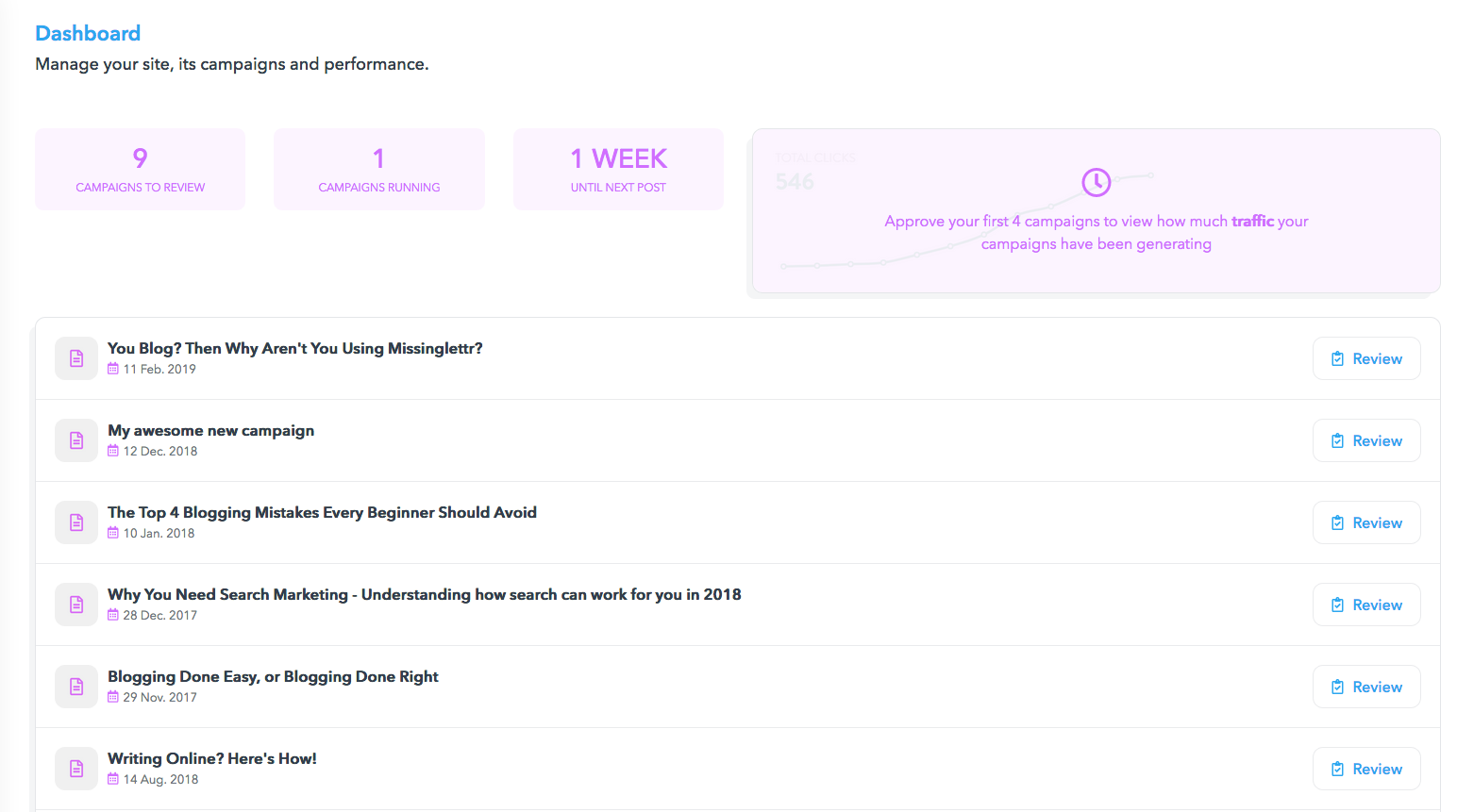 1.3 Campaigns
We've removed the individual campaign tabs since all are accessible directly from the menu.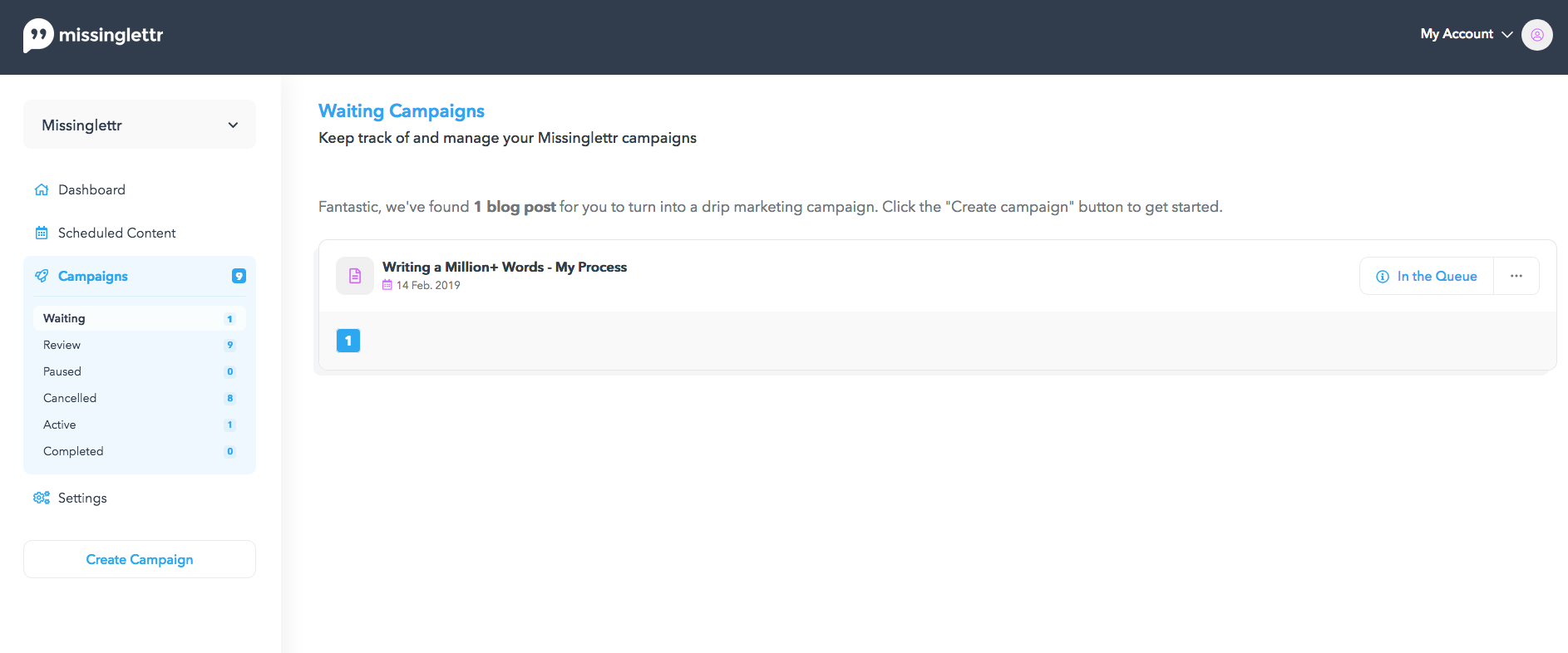 1.4 Campaign review
The campaign review was rebuild. The steps are now accessible via the icons on the top right, while the action buttons are always visible at the bottom of the page.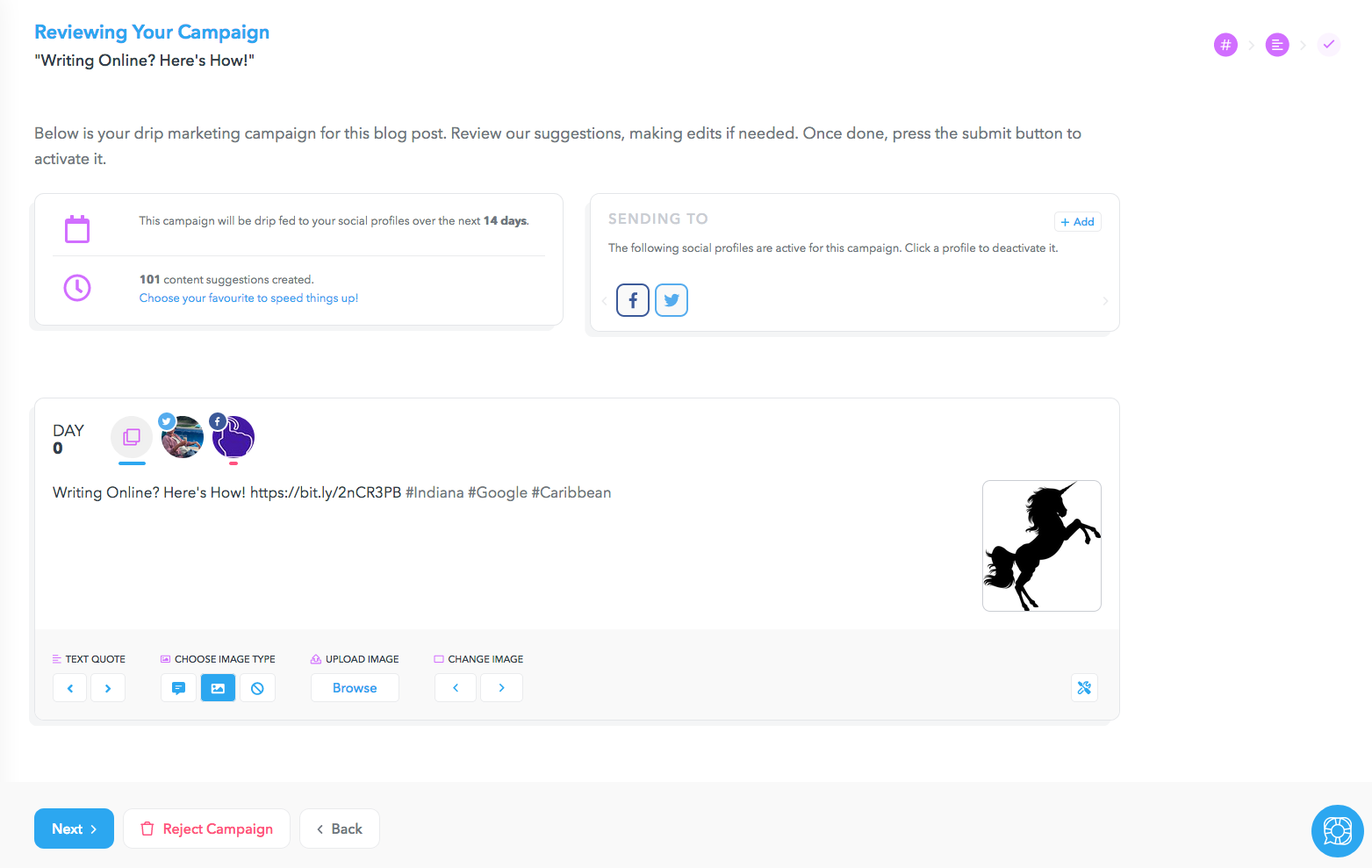 To edit the content of a single post or remove a posting day, use the tool icon: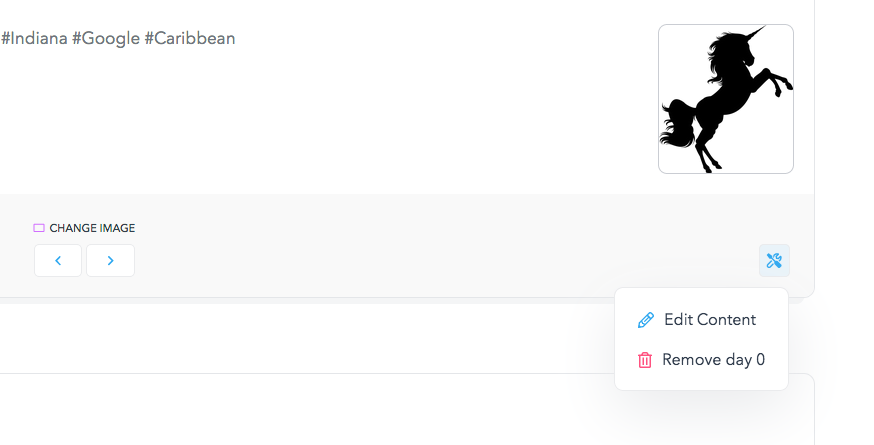 1.5 Settings
Instead of relying on a drop-down to store settings, they are easily accessible from the menu.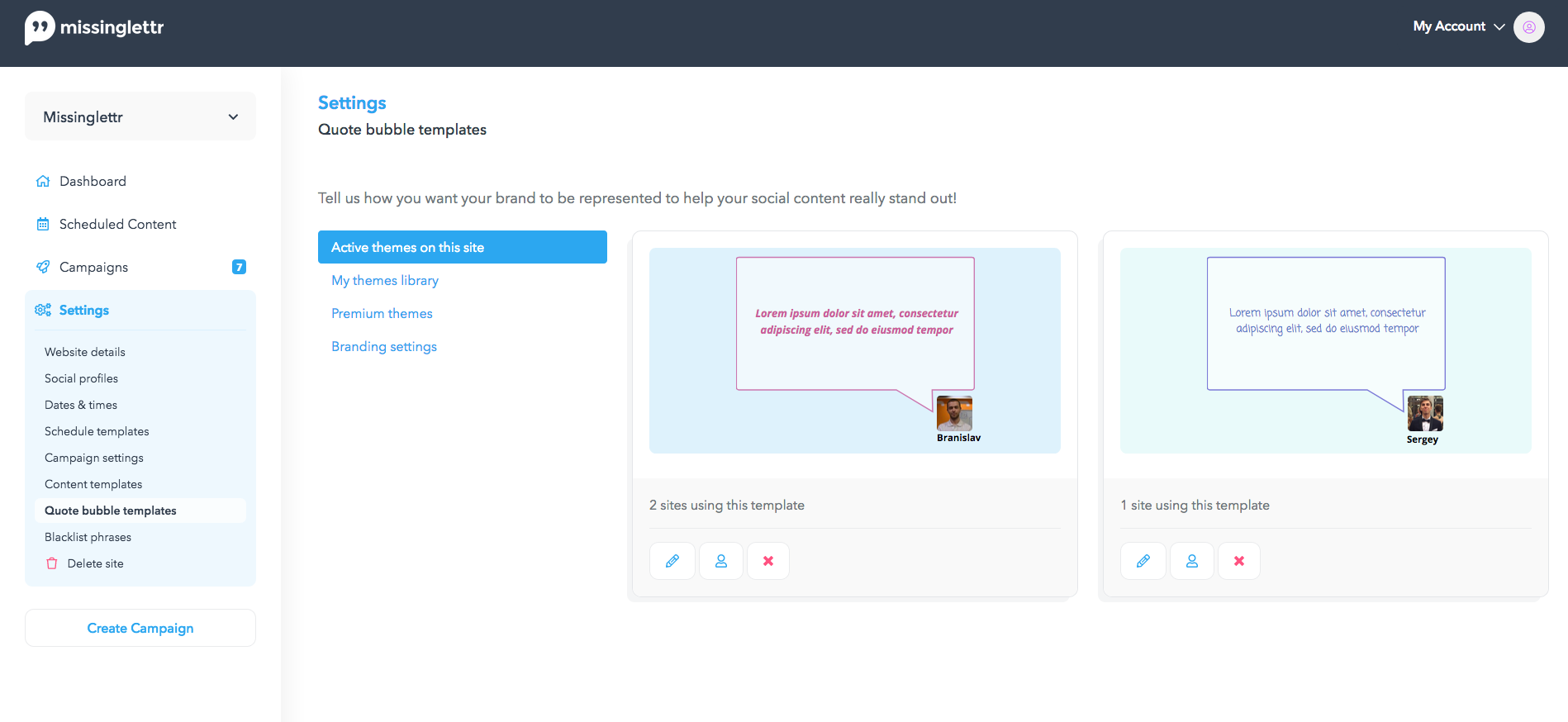 1.6 Calendar
The calendar was revamped and the current day is more clearly indicated: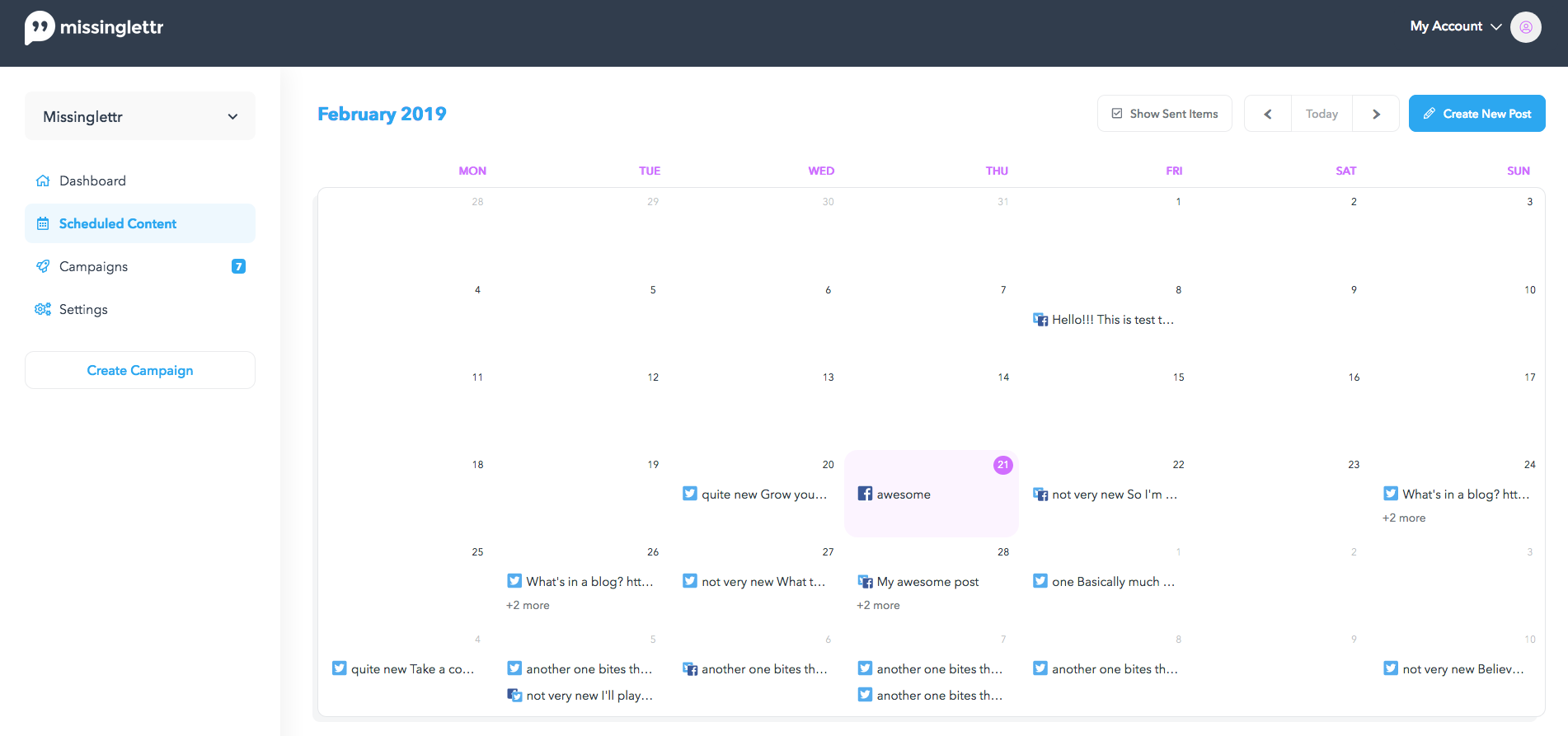 2. Limits
Weekly campaign limits have been removed. As a replacement, an active campaign limit was introduced. This means that you can create and activate any number of campaigns the moment you sign up for Missinglettr, up to a total limit of active campaigns your subscription supports. The limit change will become active on the 6th of March.
Current plans:
| | | |
| --- | --- | --- |
| Plan name | Weekly campaign limit | Active campaign limit |
| Individual | 5 | 280 |
| Business | 10 | 600 |
Legacy plans:
| | | |
| --- | --- | --- |
| Plan name | Weekly limit | Active limit |
| Free | 2 campaigns per month | 30 |
| Personal | 4 | 220 |
| Business / Team | 10 | 600 |
Add-ons:
| | | |
| --- | --- | --- |
| Campaigns provided by the add-on | Weekly limit | Active limit |
| 5 | 5 | 260 |
| 10 | 10 | 520 |
| 15 | 15 | 780 |
For example, a new Business user create and activate 600 campaigns within a week of signing up. If those campaigns use the largest available schedule template and each have 50 posts per social profile, it's possible to schedule up to 750 000 posts. A new Individual user would be able to schedule up to 12600 posts using the default schedule template.
Scheduling manual posts through the calendar will not affect the active campaign limit.
Any user who is currently above the active campaign limit will be given a limit extension to cover their active campaigns free of charge for a period of one year. This should happen automatically, but in case it doesn't, don't hesitate to reach out to customer support.
3. Temporarily disabled features
3.1 Calibrator
The calibrator was removed from the dashboard for the time being and will be given its own settings page. If you encounter odd content in your campaigns, feel free to reach out to support and we'll run a manual calibration if needed.
3.2 Editing campaign titles
While reviewing campaigns, it is no longer possible to edit the title of a campaign. While this was possible earlier, changing the title did not affect the suggested content within a campaign and the old title could still be suggested.