Creating and editing content templates
After a while, you can get tired of the default sentences we're using for your posts - "Just published an article", "Hot off the press"… and you want to create more variety. Or your blog is not in English, so these make no sense for you.
With the "Content template" feature, you can create your own default sentences.
You can access the feature by clicking "Content templates" in the "Settings" menu: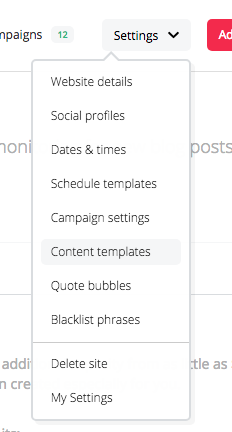 You'll see this window
---------
---------
Before you start editing the templates, it's important to know which building blocks are available here.
Blog title - %(title)s

Quote from the blog post - "%(quote)s"

Twitter handle of the author - @%(og_author_twitter_handle)s

Your own text
After you click the "Edit" button for a specific template, you'll see the first three blocks.
-------
---------
So, you'll basically be putting blocks together and you'll be able to add your own text.

For example, in one template, you'll add text first: "My new blog post is awesome, check it out". And you also want to show the title, so you'll click the title block. The edit window will look like this:
--------

--------
You can also see there is a box you can check if you want one template to be used with a campaign only once.
To see what your template will look like, click "Show preview"
--------
-------
On the left side of the screen, you'll see the option to add templates just for specific days of the campaign:
-------
-------
And if you want to add another template slot for a specific day (or Any day), you can do it by clicking this button on the top right.
-------
-------

Please note that this feature is available to users on Business plan or above.

---
---