3 - Connect a Content Source
3 - Connect a Content Source
Updated by Cassandra Polzin
Once you've added your social profiles, to be able create campaigns automatically, you need to point Missinglettr toward your first content source. This tells us where to look for new content to create Drip Campaigns.
Start by navigating to your Content Sources settings via the left-hand menu.
Click the "Add content source" button and choose the type of content source you want : currently, MissingLettr can create Drip campaigns from blogposts, Youtube videos or Wistia videos.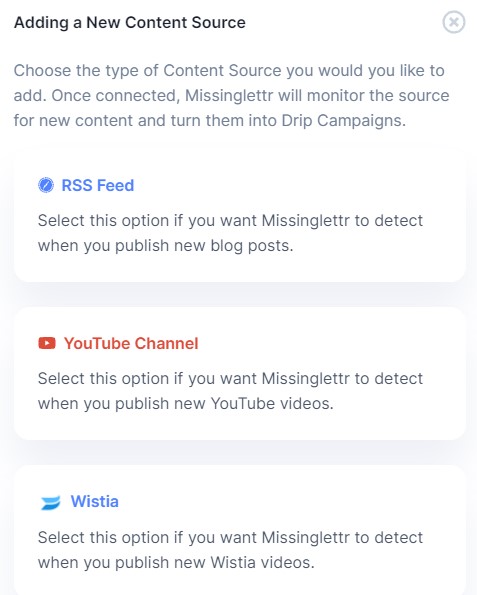 Then, add the URL, connect your Google or Wistia account if needed.
​That's it - you've successfully connected your site. In the background, Missinglettr will work its magic to discover and import your content automatically. In the rare circumstance an error occurs, a message will appear on the campaign (Example : No Content Found). In that case, click on the Error message, send a message to the Customer service by clicking on "I need help" and we'll make sure to assist you with completing the setup.
You can change your Content Source settings at any time, from the same page. 
Next step: Set up brandings for your Campaigns
Want to create campaigns from YouTube videos? : Add your YouTube channel